11 Questions to Ask Before Hiring a Junk Removal Company: A Comprehensive Guide
Hiring a junk removal company can be an efficient and stress-free solution for removing unwanted items from your home or office. These companies specialize in clearing various types of clutter, such as old furniture, appliances, electronics, and debris, making it easier for homeowners, landlords, and businesses to declutter their space.
If you're looking for the best junk removal companies, here's a tip: ask these ten essential questions to avoid falling prey to a shady and unreliable junk removal service.
Questions to Ask Before Hiring a Junk Removal Company
Doing your research before hiring a company ensures you choose a reliable and trustworthy junk removal service that handles your specific needs.
1. What is your experience with junk removal?
Experience is a critical factor when choosing a junk removal company, as it can indicate the level of expertise and quality of service you can expect.
A reputable contractor with experience will likely have a track record of handling different types of removal projects, equipped with the necessary tools and knowledge to navigate any unexpected challenges.
To delve deeper into a company's experience, ask the following questions:
How long have they been in business?
What types of projects have they completed?
Do they have any specialized training or certifications for your junk removal project?
2. Are you insured and licensed?
Hiring a junk removal company that is insured and licensed is crucial to protect yourself and your property from any damages or accidents that may occur during the removal process. Most junk removal companies with proper insurance and licenses should also have liability insurance to cover damages and workers' compensation insurance to protect employees.
Follow-up questions may include verifying their insurance coverage and licenses, asking about any safety measures they take during the removal process, and if they provide a written contract with details on their services.
3. What is your process for recycling or disposing of the junk you remove?
Responsible recycling and disposal are critical factors when choosing a junk removal company, as they can help minimize the environmental impact of disposing unwanted items. A licensed junk removal company should have a clear recycling and disposal process, such as donating usable items to charities or recycling materials like metal, glass, and electronics.
Follow-up questions may include what items they can recycle or donate, where they take the items they can't recycle, and if they provide a receipt or certification for any donated items.
Usually, underpriced junk removal companies will utilize illegal dumping practices to save money on dump fees. The images above and below are examples of what they are doing to our beautiful Philadelphia.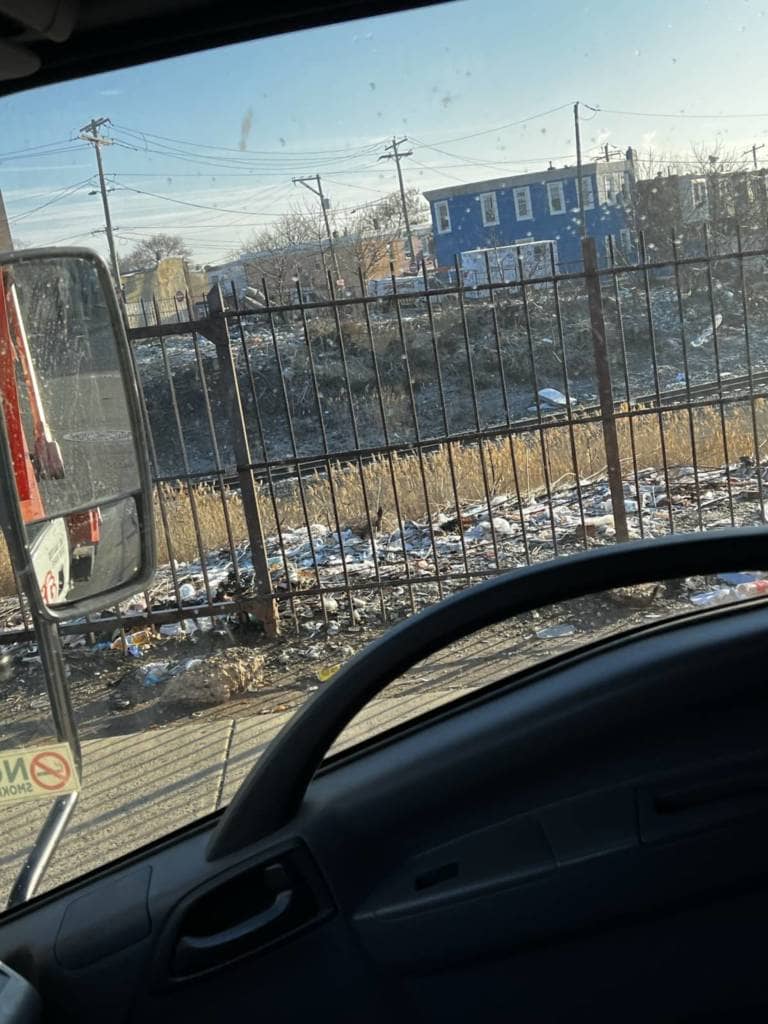 4. What kind of estimates do you provide?
Getting an accurate estimate for junk removal services is crucial to ensure you know what you're paying for and avoid unexpected charges. Many junk removal companies provide a transparent and detailed estimate outlining the costs of labor, transportation, and disposal fees. You can also ask for their pricing structure.
Follow-up questions may include what factors affect the cost of the estimate, if they charge by weight or volume, and if they offer any discounts or promotions for certain types of items or projects, such as furniture removal.
5. How do you prepare for a junk removal appointment?
Preparing for a junk removal appointment is vital to ensure a smooth and efficient process. A reputable junk removal company may suggest preparing the items for removal by grouping them and making sure they are easily accessible. They may also recommend removing any obstacles or hazards that obstruct their access to the items.
Follow-up questions regarding preparation may include any specific items they cannot remove if they offer packing or labeling services and if they provide any assistance with moving heavy or bulky items.
6. What size is the dump container on your truck?
Understanding the difference in capacity between different dump sizes will help you get a better idea of how much space you will need to accommodate your junk and how much it will cost.
The difference in capacity between a 15-yard dump and a 12-yard dump is significant regarding junk removal services. A 15-yard dump can accommodate up to 15 cubic yards of junk, while a 12-yard dump can only hold up to 12 cubic yards. This means that a half truckload of a 15-yard dump is much more than a half truckload of a 12-yard dump. It's important to note that the dump bed size can vary among junk removal companies, so it's important to ask about this when comparing different companies.
7. What kind of guarantees do you offer?
Guarantees are essential when hiring a junk hauler as they assure that the job gets done to your satisfaction. Therefore, legitimate junk removal companies should offer assurance on the quality of their work, such as a satisfaction guarantee or a guarantee to complete the job within a specific timeframe.
Follow-up questions regarding guarantees may include what the warranty covers explicitly, the process for invoking the guarantee if needed and if they offer any compensation if the agreement is unmet.
8. Can you provide references or reviews?
Researching a company's reputation is crucial to ensure you are hiring a trustworthy and reliable service. The professionals you choose should have positive references or reviews from satisfied customers that highlight their professionalism, timeliness, and quality of service.
Follow-up questions regarding references or reviews may include how long they have been in business, if they have any testimonials or case studies from previous customers, and if they have any certifications or awards for their services.
9. How long will the junk removal process take?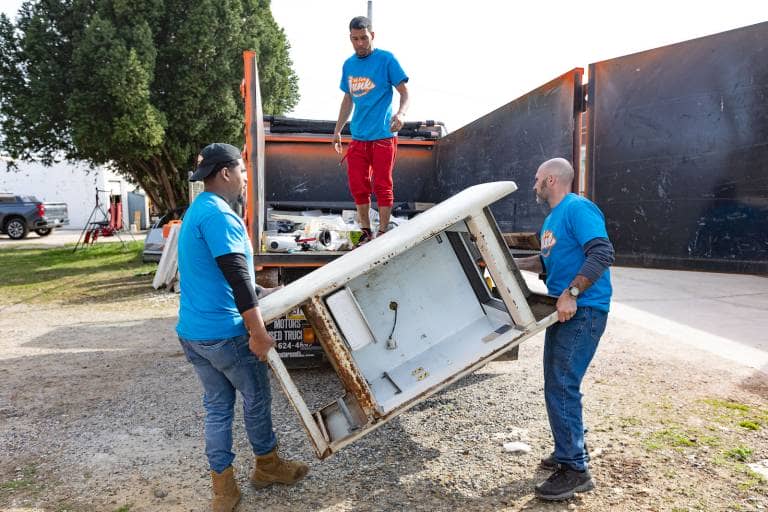 Having an idea of how long the junk removal process will take is essential to plan your schedule and ensure the completion of the project on time. A reputable company should be able to provide an estimated timeline for the project based on the entire scope of the work and the volume of the items.
Follow-up questions regarding time estimates may include if the estimate contains any buffer time for unexpected delays, if they offer any rush services for urgent projects, and if they provide updates throughout the process to keep you informed.
10. What kind of equipment do you use for junk removal services?
Proper equipment ensures efficiency and safety when doing the job. A reliable junk hauling company should have various equipment, such as trucks, trailers, and tools to handle different types of waste and debris, including specialized services like bathroom demolition.
Follow-up questions regarding equipment may include whether the company regularly maintains its equipment to ensure it is in good working condition, if they have specialized equipment for handling hazardous waste, and if they have any limitations on the type or size of items they can handle.
11. What kind of payment options do you offer?
Understanding a company's payment options is vital to avoid confusion or unexpected costs. So, reputable companies should offer transparent and flexible payment options, such as hourly rates or flat fees based on the volume or weight of items removed.
Follow-up questions regarding payment options may include if the company requires a deposit, if they accept different forms of payment such as credit cards or cash, and if they offer any discounts or promotions for first-time customers.
One of the Top Junk Removal Companies in PA
Choosing junk experts provides numerous benefits, especially in saving time and effort. In addition, you can ensure the job is done efficiently and safely by choosing a company with experience, proper equipment, insurance and licenses, responsible recycling and disposal practices, transparent estimates, guarantees, and positive references.
If you are looking for a reliable junk removal company in Drexel Hill, PA, WE LOVE JUNK makes the process simple and stress-free, providing top-notch services that meet your needs and expectations. Since we've been in the junk removal industry for years, we can provide solutions for a clutter-free home. Book your appointment today!