Philadelphia Furniture Pick Up Guide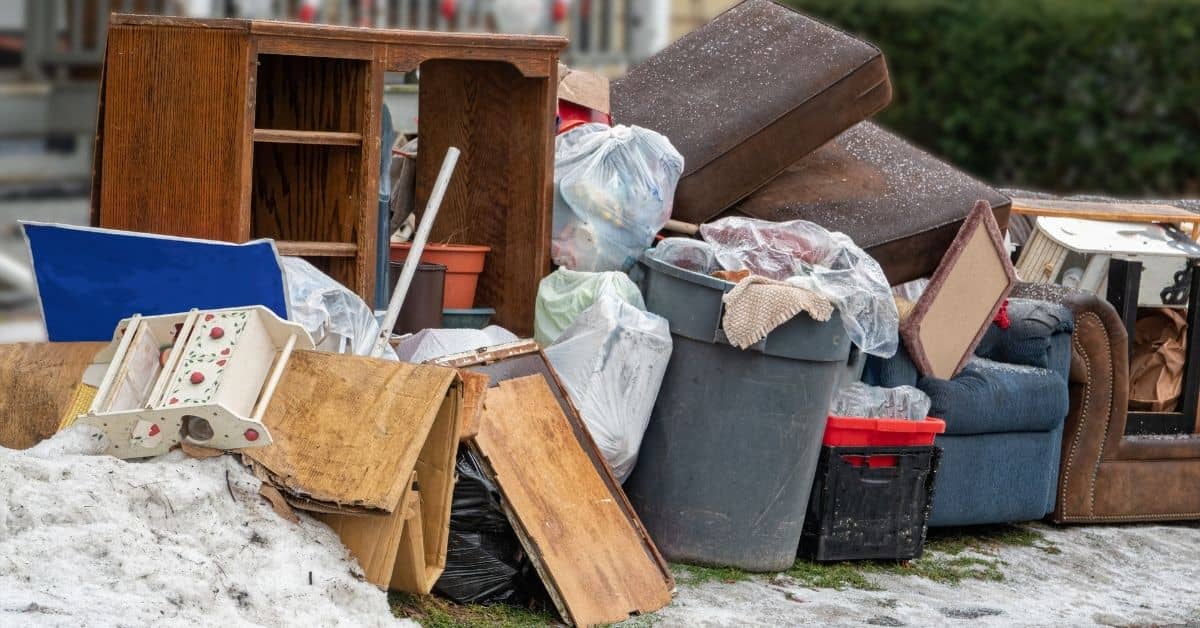 Getting rid of old furniture in Philadelphia isn't always as easy as just leaving it on the curb for the trash company. There are many rules and regulations based on your city or township's trash collection that, if not followed, will result in having your large furniture items left on the curb or sometimes fines.
Whether you're moving, renovating, or upgrading your home – here are some of the top ways to get rid of furniture in Philadelphia.
Leave Your Old Furniture On The Curb
As you drive around Philadelphia you may see large furniture items like sofas, dining tables, old chairs, dressers, and old appliances sitting on the curb for weeks or months. That is because the Philadelphia Streets Department is very selective about what they will collect on the regular curbside pick-up schedule.
According to the Philadelphia Streets department oversized items and dumping guidelines, they will not accept metal oversized items or tires as part of the regular curbside collection including:
Stoves
Ovens
Washing Machines
Dryers
Refrigerators
Hot Water Heaters
They will, however, accept large furniture items that can be easily compacted by the trash truck.
If you're unsure about your item, it's always safest to call the Philadelphia Streets Department and ask. It's important to note that to dispose of a mattress, must be bagged for a curbside pickup but not for convenience center drop-offs.
For items not eligible for curbside collection, one of the ways to get rid of furniture in Philadelphia is by dropping it off at a local sanitary convenience center. These centers are mostly organized when you go to them. They have sections for different categories including household trash, recyclable items, electronics, appliances, large items like furniture, yard waste, and more.
If you have a truck or vehicle to transport the items yourself, there is no charge for Philadelphia residents. You will be required to show proof of residency.
Philadelphia Streets Convenience Center locations are:
Port Richmond 3901 Delaware Ave. 215-685-1358
West Philadelphia 5100 Grays Ave. 215-685-2600
Strawberry Mansion 2601 W. Glenwood Ave. 215-685-3955
Southwest Philadelphia 3033 S. 63rd St., near Passyunk Ave. 215-685-4290
Northwest Philadelphia 300 block Domino Lane, near Umbria St. 215-685-2502
Northeast Philadelphia State Rd. & Ashburner St. 215-685-8072
Most of these centers are open from Monday to Saturday, 8AM to 6PM. Dropping of furniture is free in Sanitation Convenience Centers as long as you are a Philadelphia resident. They are also willing to accept anything as long as it is not a hazardous material.
Coordinate a Furniture Donation
Donating is always a great option for getting rid of old furniture! Reusing is the most environmentally friendly option.
If your furniture item is still in decent shape – don't throw it away when it can still serve another family or someone else in need.
There are many of worthy charities and non-profit organizations that can pick up furniture for donations in Philadelphia. In order for them to pick up the furniture, you must schedule it in advance. Before you schedule a free pick up with a specific company, you should also see what kind of furniture items they are willing to accept.
Philadelphia Furniture Donation Options
Goodwill
Goodwill is one of the known non-profit organizations in Philadelphia as they accept any donations from used clothes and accessories to large furniture items. With Goodwill's pickup service you can easily contribute to helping local residents that are in need of furniture and more.
Goodwill Drop off Locations:
The Goodwill Store, South Philadelphia East 330 W Oregon Ave, Philadelphia, PA 19148
Goodwill, Queen Village – Pennsport 2601 S Front St, Philadelphia, PA 19148
Goodwill, 7061 Lincoln Dr, Philadelphia, PA 19119, (856) 439-0200
Habitat for Humanity
Habitat for Humanity Philadelphia ReStore is widely known as the largest non-profit homebuilder worldwide. Their mission is to provide aid to people who can't afford financial responsibilities, such as repairing or building homes.
If you want to support Habitat for Humanity Philadelphia ReStore in building and repairing homes, you can donate your unused, old, or gently used furniture through their pick-up service and drop-off locations.
Keep also in mind that in donating furniture, there are also selected items that they cannot accept. Such as mattresses, bed frames, box springs, china cabinets, clothing, kitchenware, paint, random hardware or any unsellable items.
Drop off location:
2318 Washington Avenue Philadelphia, PA 19146
Tuesday-Saturday 10am-5pm
215-739-9300
Philadelphia Furniture Bank
Philadelphia Furniture Bank is the centralized resource for furniture for human service organizations from across Philadelphia. They help people out of homelessness with the help of the furniture donations they received. They rely on furniture donations from individuals and businesses in order to operate and since late 2014 Philadelphia Furniture Bank has furnished more than 4,500 homes.
If you have decided to donate furniture to Philadelphia Furniture Bank you can schedule a furniture pickup through their website or you can also directly drop it off at one of their local centers.
Drop off location:
3650 St, Philadelphia, PA 19134
(215) 291-9830
Uhuru Furniture & Collectibles
The goal of Uhuru Furniture is to see genuine change and support sustainable economic development and in the community.
If you want to donate to Uhuru Furniture, they also provide free pick-up service as you schedule in advance, and also drop-offs.
Drop off location:
Uhuru Furniture & Collectibles
832 N. Broad Street, Philadelphia, PA 19130
(215) 546-9616
These are just a few of the Philadelphia furniture donation options. No matter which you choose, ask for a receipt so you can claim a charitable donation on your taxes!
Sell Your Old Furniture
Selling your old furniture item is always an option if it is in decent condition.
When listing your furniture for sale, be realistic when setting the price. Pricing it high just because it has sentimental value to you won't work because it doesn't have the same value to the customer.
When pricing, you should take in mind any defects or faults, and just the same when you should take note of a well-kept or good condition item. Make sure to take accurate pictures and write a good description.
Here are some options to sell online
Facebook Marketplace
Craigslist
Bonanza
Bookoo
Chairish
1st Dibs
eBay
Etsy
OfferUp
Shopify
Furniture Finders
LetGo
If your goal is to sell something quickly, these sites are the most used furniture marketplaces. Most of them allow you to list and sell your item for free while some will take a percentage of the sale price
Hire A Junk Removal Service
Hiring a junk removal service to get rid of your large furniture items is going to be the easiest option for you. Junk removal companies provide the labor, trucks, hauling, disposal, and recycling for all of your unwanted items.
Our Philadelphia full-service furniture removal is simple and stress-free. All you have to do is call us or schedule your free estimate online. One of our junk removal technicians will evaluate the items you want to be removed and provide a no-obligation quote. Once you agree, we will haul it away and you can sit back and enjoy your junk-free space!
As a locally-owned small business, we provide honest and fair pricing. Our disposal process is eco-friendly using specific stations that will recycle eligible items. Items that cannot be recycled will be incinerated. Waste to energy incineration is the most sustainable alternative to landfills. You can feel good knowing your unwanted items are being disposed of in the most environmentally friendly way possible!