Philadelphia Mattress Disposal Guide [5 Fast & Easy Methods]
The United States throws away approximately 18.2 million mattresses annually, with more than 50,000 ending in landfills daily. Dumping mattresses and other items into landfills will take up valuable space and create environmental hazards.
By properly disposing of your mattress, you can reduce the amount of waste, helping preserve our planet for future generations. The good news is that there are plenty of sustainable options for disposing of a mattress in Philadelphia. This guide will show you the five best methods for mattress disposal in Philadelphia.
Ready to get started? Let's dive in!
1. Call A Philadelphia Mattress Disposal Company
Calling a junk removal company in Philadelphia, like We Love Junk, is the quickest and most straightforward method to dispose of your mattress.
These service providers offer a safe and eco-friendly way to eliminate junk mattresses, so you don't have to lift a finger. They'll also ensure that nothing in your home gets damaged while they're hauling your old bed. Furthermore, you can be confident that disposing of the mattress won't harm the environment because they take it to a facility specifically designed for this purpose.
Junk removal experts not only maximize your safety and adhere to sustainable disposable options, but they can also help you save time as well as the following benefits:
Save Money: Not only will you save time by hiring a professional junk removal service, but you'll also save money.

Property owners in real estate, property management, and home construction industries can invest their valuable time into their businesses by leaving the dirty work to someone else.
Create More Space: By removing unwanted items, you'll have more room to work, live, and play in your Philadelphia home.
Save Yourself from Injury: Many large items, like mattresses, are too heavy to remove without help from a professional. Attempting to carry certain items without help may increase your chances of injury.
2. Recycling
More than 80% of mattresses can be recycled, yet most people don't realize this and place their old beds in the trash. Not only is recycling your mattress more environmentally friendly, but it's also easy to do!
There are plenty of ways to recycle a mattress in Philadelphia. Check out some of the most popular methods below.
Contact Your Local Recycling Center
Most recycling centers will accept old mattresses for recycling. This is a more environmentally friendly option than sending your mattress to the landfill, and it's also easy to do. Simply contact your nearest recycling center to find out if they accept mattresses and what the process requires.
Mattress Disposal Bags
If you don't have time to recycle your mattress or don't live near a recycling center, you can always use a mattress disposal bag. These bags are designed specifically for mattress disposal, making the process quick and easy.
According to the Philadelphia Department of Streets:
3. Reselling
If you want to get rid of your old mattress or any other furniture but it's still in good condition, try reselling it. To do so, take advantage of social media by posting that you have a used mattress for sale on your channels.
You could also use online marketplaces such as OfferUp, Facebook Marketplace, NextDoor, or Craigslist. Take a picture of the mattress and post it with an asking price on one of these sites.
Try listing it as "free" on Craigslist if nothing else works.
4. Repurposing
If you're the type that loves a good DIY project, then breaking down your mattress and box springs yourself is a great option! Mattresses contain valuable materials like steel, polyurethane foam, memory foam, latex foam, natural fibers, wooden parts, nails, screws, and so much more.
You can use the materials for a variety of purposes, such as:
Home Projects: You can use the old mattress' foam and cotton in many ways instead of just throwing it out. With some imagination, they can be shredded and used as carpet padding, insulation, filters, seat cushions, pet bedding, pillows, and more.
Gardening: You can use your old mattress' wooden parts for gardening. For example, shredded wood makes great lawn mulch. Or, you could use the slats to create a compost bin.
Arts and crafts: The fabric on your mattress can turn into a lovely DIY rug. Memory foam padding can also be cut small and used as cleaning sponges. Lastly, the screws and nails in your mattress are perfect for arts and crafts projects.
Decoration: The coils and springs can be melted down and used to make objects such as plant and candle holders, ornaments, bird feeders, and more.
5. Throwing The Mattress Away
If you have exhausted all other options, your last resort is to get rid of the mattress.
Keep in mind that you should only resort to this option if your mattress is unusable, extremely dirty, or has bedbugs. If your old bed poses a health hazard, getting rid of it will prevent the spread of any contaminants.
While getting rid of your old mattress by simply throwing it away may be tempting, you'll need to take a few extra steps to ensure it's disposed of properly. Philadelphia has a strict ordinance that requires all mattresses to be wrapped in plastic before being thrown away. Doing so prevents the mattress from occupying too much space in the landfill and becoming a breeding ground for pests and bacteria.
If you don't follow Philadelphia's ordinance and wrap your mattress in plastic before throwing it away, you could face a hefty fine. So, if you're considering getting rid of your old mattress, follow Philadelphia's regulations!
Getting Rid of Your Old Mattress? Call an Expert Today!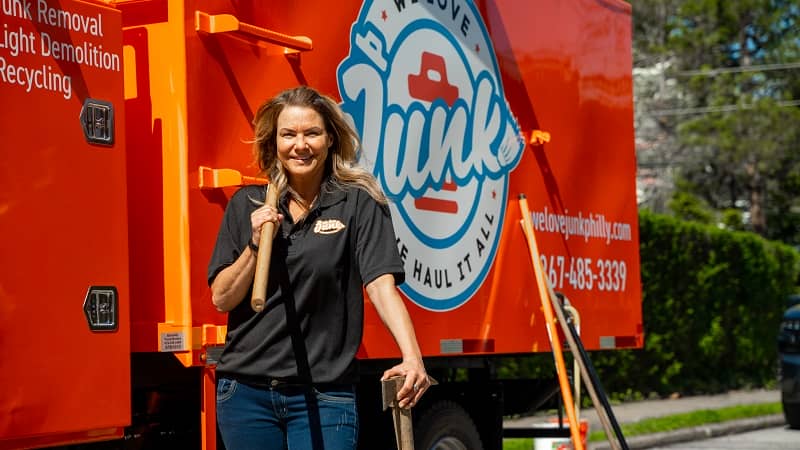 At We Love Junk, we understand that every job is different, which is why we offer personalized service to each and every one of our clients! We're locally owned and operated, so we don't have any hidden fees or unexpected price hikes –– our quotes are guaranteed!
We know that it can be challenging to find time to schedule a junk removal service appointment, so we offer online booking for your convenience. And because we care about the environment, we recycle and donate as much as possible!
So, what are you waiting for? Give us a call today, and let us take the stress out of furniture removal! Philadelphia mattress disposal has never been easier!