Schedule your dumpster rental
ROLL-OFF DUMPSTER RENtAL IN MONTGOMERY COUNTY, PA
Also serving Bucks, Delaware, and Chester Counties
WE LOVE JUNK is the top Montgomery County dumpster rental service. We also provide dumpster rental service to Bucks, Chester, and Delaware counties.
Our 15-yard roll-off dumpster is perfect for garage, estate, hoarder, attic, or basement cleanouts and also light demolition or home renovation projects.
A roll-off dumpster rental offers you the convenience of deciding what to get rid of and what to keep over time. No need to rush when the dumpster is in your driveway! Our standard rental includes up to 5 days but whenever you're ready - just give us a call and we will come to pick it up!
Rental fees include delivery, pick-up, and disposal of your unwanted items or construction debris.
How does dumpster rental work?
Schedule a dumpster rental by calling us at 267-485-3338. We will deliver your dumpster on your scheduled day and place it in your driveway. You'll have up to 5 days to fill it with your unwanted furniture, trash, construction debris, or even appliances. When you're ready, we will pick up the dumpster and haul away all of your unwanted items!
How big is a 15 yard dumpster?
A 15-yard dumpster is the equivalent of about 6-8 pick-up truck loads. While they're mainly used on construction sites for debris, they have become popular for residential use for large cleanouts too!
What's the difference between junk removal and dumpster rental?
There are a few things that make junk removal different from dumpster rental. The biggest difference is junk removal includes labor. With junk removal, you don't have to lift a finger - our junk removal techs will carry out and haul away all of your unwanted items. With a dumpster rental, you are required to fill the dumpster yourself. We deliver and pick up the dumpster and take your unwanted items to the dump.
Can I put anything in the dumpster?
You can put ALMOST anything in the dumpster. There are still some items we aren't allowed to take like biohazard items, hazardous or dangerous materials, wet paint, and pressurized containers. Check our full list of accepted and rejected items.
How much does a dumpster rental cost?
Dumpster rentals start at $525 for up to 5-days.
No hidden fees - All prices include delivery, pick-up, and dump fees of up to 2 tons. Over 2 tons are billed at $75 per half ton.
If you need more time, please call us immediately to extend your rental time.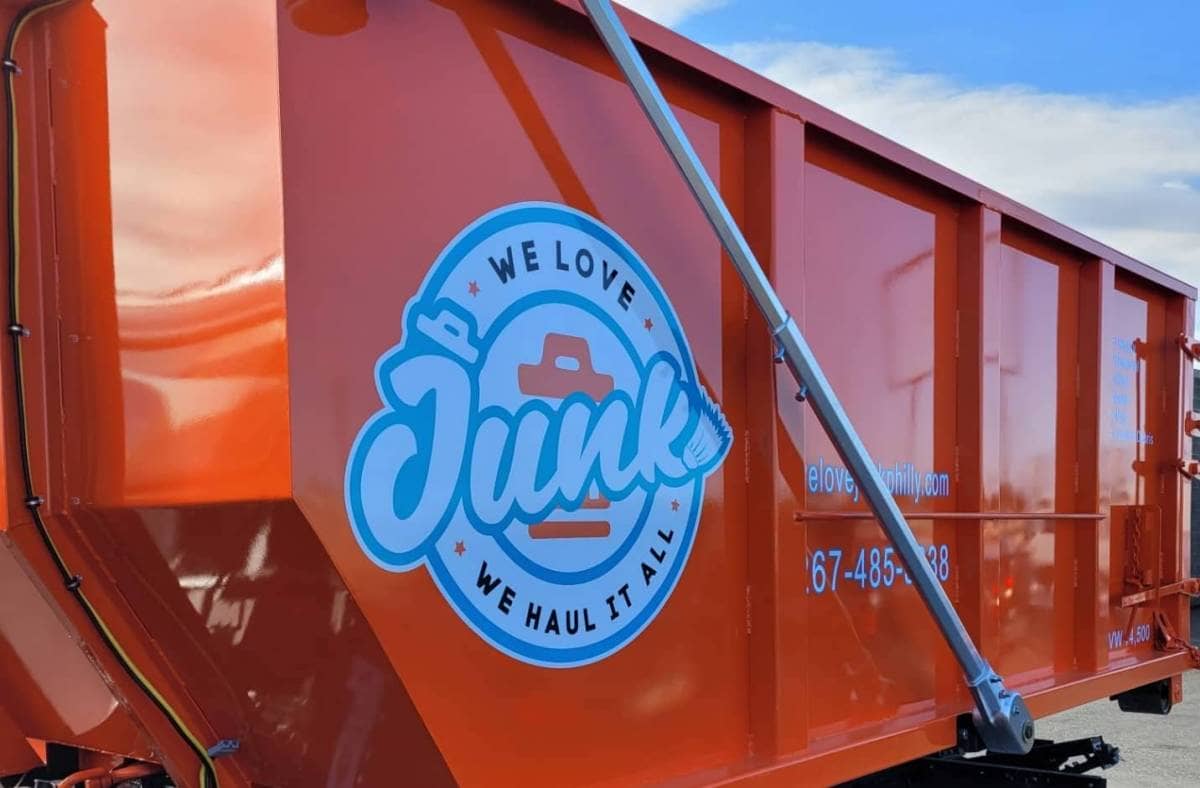 Schedule Your Dumpster Rental Today!
Our Dumpster Rental process
When you need a dumpster rental in the Montgomery County, PA area, it's as simple as just scheduling your rental!
WE LOVE JUNK makes the process easy and stress-free. Just follow these steps and let our friendly staff take care of the rest.